AUTHORITY POSITIONING SECRETS™
"How To Position Yourself As An Expert Authority And Wave "Bye Bye" To Imposter Syndrome"
WHAT IS IT?
Before I tell you what Authority Positioning Secrets™ is, let me tell you what it's NOT…
After a quick Google search on "Authority Positioning", this is one of Google's most popular page 1 results…
(Screenshot courtesy of Google and socialmediatoday.com)
So, let me ask you two questions…
If you used the strategies above, how much of an "edge" over your competition do you think you'd have?
Well, it depends on whether they're using the same strategies or not. And if they are, then you're "edge" would be minimal if anything at all.
Don't forget, this information is freely available.
Now, here's the second question.
How do you think your prospects view you in the marketplace?
Do they see you as someone who's "world-class" at what you do?… Do they see you as an "expert" in your field?… Do they see you as a "celebrity" in your niche?… Or do they see you as the "expert authority" and the "go-to person?"
I think you'll agree that at first glance, each of those descriptions by themselves is good until you compare it with the one after it.
And while being "world-class" or an "expert" is a function of mastering your craft. Being seen as an "authority" or better yet, "expert authority", isn't tied to your skill level.
It's about being known or perceived as THE BEST.
Can you see the difference between this line of thinking and the 6 Google tips above?
Now, there's a lot more to Authority Positioning that most people don't know about, because if there weren't, then EVERYBODY would be an authority.
So, if you want to know more about what those secret ingredients are, then keep reading.
Because here's the thing. If you are world-class, or an expert at what you do, then it's your duty to position yourself as an authority.
Why? Because you have huge value to give. And not positioning yourself as an authority, means playing small and selling yourself short. And what's worse, any prospective clients are missing out on an opportunity to work with you.
Heck, even if you don't see yourself as an expert or you may be suffering from imposter syndrome, authority positioning IS possible for you.
After all, even Sifu Dan Lok had to start somewhere…
As did Warren Buffett, Jeff Bezos, J.K. Rowling, and everyone else with similar positioning.
So, if you agree with what you've read so far, and you or your team could benefit from positioning you as an authority, keep reading down the page, because the much-needed training Authority Positioning Secrets™ will really help you.
WHY IS IT RELEVANT?
Being an authority means not being questioned about your position or value. And Authority Positioning Secrets™ serves as your opportunity and secret weapon to position yourself as the go-to person in your niche… all so you can run circles around your competition and further your impact on your marketplace.
What does this mean?
MORE INFLUENCE WITH LESS EFFORT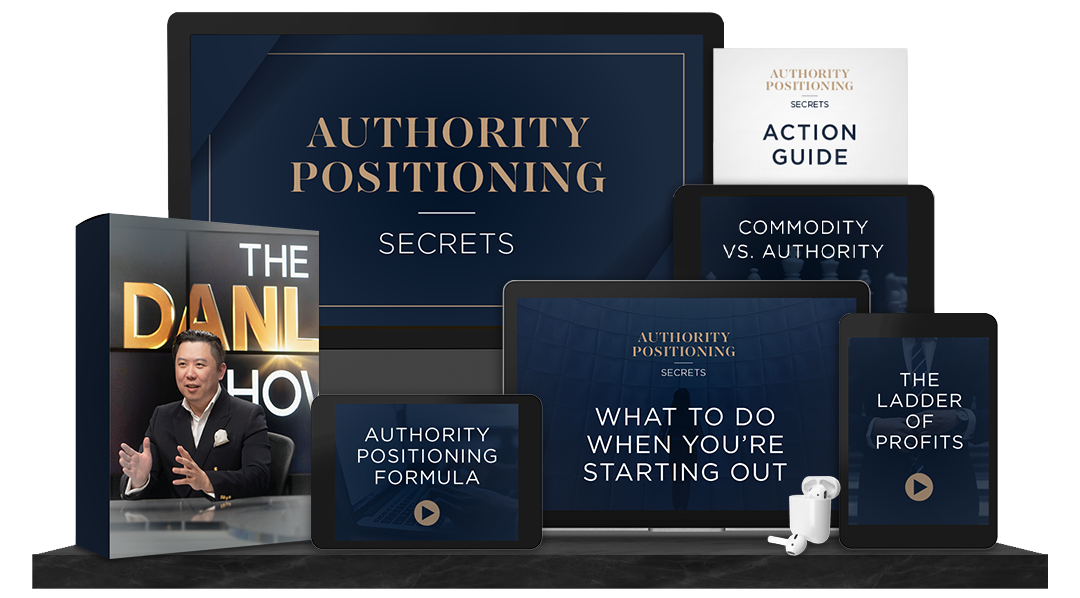 Inside Authority Positioning Secrets™ Chairman of Dragon 100™ and King of Closing™, Dan Lok reveals his best-kept secrets on authority positioning. Secrets he's learned and implemented over his 20-year business career, to catapult his brand and businesses and sell over $100+ million in coaching programs, digital courses, and high-ticket professional services.
Chances are, your top competitors are using some Authority Positioning strategies. But they likely didn't learn them from Dan. Meaning they definitely won't have all of them. So, you'll be giving yourself a huge advantage just by investing in this training.
Because, in business, nothing happens by accident.
Authority positioning is the result of a series of steps that build your visibility and credibility in your marketplace. This allows you to use that influence to drive revenue and have a bigger impact.
So, if you want to dramatically amplify your message, and attract high-quality prospects you can convert into high-value and higher-paying clients… (and that means no more "problem clients" or what Dan calls "clients from hell"), then read below to discover what you can expect from this powerful and groundbreaking training.
HOW CAN IT HELP?
There are only two ways your marketplace will view you. You can be seen as a commodity, meaning you'll have to work harder to chase clients. They'll nickel and dime you. You won't be paid what you're worth. And you'll find business very difficult.
OR You can be seen as an authority. You'll have clients chasing you. You can set your price as high as you want as long as clients are willing to pay it. You'll get to "cherry-pick" the clients you work with, and you'll find business simpler, and much more enjoyable.
So, before you hit the ADD TO CART >… let's look underneath the hood of what's inside: